What is a pre-approved home loan?
Pre-approval means different things depending on which lender you approach, but they all describe something similar.
Whether it is called conditional approval, indicative approval or approval in principle, pre-approval confirms that your application fits your chosen lender's criteria but remains subject to conditions.
It is not a guarantee of finance.
How to get pre-approved for a home loan?
There are two main kinds of pre-approvals. Both require you to submit a full application and supporting documents like payslips and bank accounts.
What is different is the home loan pre-approval process. A full-assessment pre-approval gives you a stronger indication of where you stand than a system-generated pre-approval because the lender has had a much better look at your circumstances.
A summary of the two types of pre-approvals is below.
System generated
With a system-generated pre-approval, you submit a full application and usually some or all of your supporting documents. Unlike the full assessment approval, the supporting information is not assessed by the lender's credit experts.
This kind of easy home loan pre-approval can be received very fast, sometimes immediately, but it will have a lot more conditions and relies entirely on the information that you have entered into the system or told the lending expert, which has yet to be validated.
It is unreliable so you should never make an unconditional offer on a home on the strength of a system-generated approval.
Full assessment
This is where the lender's credit experts do a full assessment including looking at the documents you supplied and getting a credit check from an independent credit agency. The lender will talk to you and ask you questions about anything they want to clarify and will potentially ask for more information on your finances.
Once they are satisfied with the information you have provided, they will give you a pre-approval, subject to an acceptable valuation of the property you plan to buy, and to no material changes in your financial circumstances.
This type of pre-approval will take a few days to be issued but it will save you a lot more time when you eventually come to seek final approval of the loan. It means that your lender has invested significant effort in assessing your financial position and is still willing to proceed to the next step.
Get pre-approved by starting a home loan application today.
Despite its conditional nature, it is still a very good idea to get pre-approval before making an offer on a property.
Pre-approval is the best indication that your lender finds your financial situation acceptable and is an important step to take before you go house hunting or make an offer on a property.
We recommend getting a "full assessment" pre-approval because this will give you a much better answer to the question "do I qualify for a home loan?" than a system generated pre-approval.
If you get a full assessment pre-approval, you are more likely to get a quick mortgage approval later.
Handy hint: Be sure to clarify with your lender which type of pre-approval they do, so you know where you stand when you go house hunting.
1
If your circumstances change, you may not be approved
If your personal or financial situation changes between pre-approval and your final application, your lender will need to reassess your application. In some cases, it means you won't get final approval. Changes that could affect your application would include losing your job, changing jobs, going part-time or becoming a contractor, having children, or taking out new debt.
Handy hint: It is a good idea to wait until your personal and financial circumstances are stable and you're seriously considering a purchase before applying for pre-approval.
Pre-approvals typically last long enough for you to find a home or investment property if you are actively looking, but they don't last forever. A few months is common. The expiry date is there because it is likely that your financial circumstances and the conditions in the property market will be different in a few months compared to now. Your pre-approval should clearly state when it is valid to.
Handy hint: Once your pre-approval expires, your loan eligibility will be assessed once again and a credit check may also be requested. If possible, line up a few potential properties to inspect or make an offer for so that the chance of failing to buy before the approval expires is reduced.
3
If the property is unsuitable, your application will be rejected
When you apply for pre-approval, you usually haven't found a property, so the lender cannot assess whether the property will fit its lending guidelines. For this reason, pre-approval will include a condition that it is "subject to a satisfactory valuation". As well as looking at the price, lenders will often rule out certain types of property as unacceptably risky or undesirable on their books. These could include:
Highrise apartments
Properties on unpaved roads
Properties in remote areas
Properties near large power lines
Properties that are very run down
Properties in particular suburbs
Handy hint: Be sure to ask your lender about what type of properties they don't accept before you make an offer on a property.
4
Pre-approvals can affect your credit score
Each time you apply for a formal pre-approval, your lender will run a credit check on you. These credit checks stay on your credit file, and if you have a lot of credit checks, it can reduce your credit score. This is because numerous inquiries could lead lenders to regard you as a higher-risk customer, as it suggests you may be short on cash or getting ready to rack up a lot of debt. For this reason, it is a good idea to only apply for pre-approval from your preferred lender, instead of applying to multiple lenders.
Handy hint: Most sellers are keen to lock in the sale, so if you can show them that you are well on your way to obtaining finance, it can give you an advantage over other buyers who haven't got pre-approval.
To get pre-approved for a home loan, you can apply for a home loan online.
Home Loan Pre Approval Process
The process of getting approved basically amounts to filling out some paperwork and providing proof of your income and assets. The lender will look at your credit report and make sure that you have the credit profile that they are looking for. It means that when the time comes for you to make a bid on a house, you are able to move forward quickly without hesitation.
There are many different loans for a home that you could explore and it's better to get that out of the way first. By getting pre-approved, you can figure out exactly how much money you can qualify for, and the interest rate you can expect to pay.
Most lenders put a loan to valuation ratio on a loan and home. For home loans that means that you might have to come up with anything from 3 per cent of the total value of the home as a deposit, or as much as 20 per cent.
It may take time for you to have that sort of mortgage deposit available, particularly if you have it tied up in a term deposit or in shares, so it is good to know what to expect.
You might also find that some lenders are prepared to loan you more money than others, depending on your good credit history, or bad credit history.
Other lenders would not lend him money because a credit problem went against their lending guidelines, however his lender agreed to refinance the loan because he had been a loyal customer who had not missed any payments.
Remember that lenders will do their own property valuation, and if they do not agree with the asking price of a property after comparing it to the valuation they may reject the loan home.
It pays to know what you can afford. If you qualify for a maximum of a $150,000 mortgage, you don't need to be looking at houses that are $300,000 in value. You're only going to waste your time and the time of the real estate agent that's working with you.
Once you know exactly how much you can qualify for, you will have a much better idea of what to look at and what you need.
Home Loan Pre-Approval FAQs
What are some common pre-approval mistakes?
There's a few mistakes buyers may make about the pre-approval process. Some are:
Not knowing there's an expiry date
Not having full documentation, which can slow the process down
Not informing lender of lifestyle changes including having a child, dropping back to part-time work, and taking on other liabilities
Shopping for a disapproved property as some lenders don't lend for certain properties or homes such as particular apartment blocks, hobby farms or large properties
Does pre-approval guarantee me a loan?
The short answer is no, not always. To have the best chance of securing pre-approval, there are certain things to keep in mind. For example, as mentioned before, not changing jobs and having steady employment can increase your chances of getting pre-approval. Additionally, market forces outside your control, such as Reserve Bank cash rate changes, can also affect your ability to get pre-approved. Unsuitable properties, such as those mentioned above can also mean your application is rejected.
Can pre-approval affect my credit score?
Yes, it could. Every time you apply for a pre-approval, the lender you apply with runs a credit check. This then leaves an enquiry on your file, as part of the comprehensive credit reporting system. Too many enquiries could impact your credit score in a negative way. This is why it's important to only apply with the lender you're serious about getting a home loan with.
About loans.com.au
loans.com.au is an award-winning online lender that is proudly Australian and based in the heart of Brisbane, with offices in other capital cities. We are backed by the financial strength of Firstmac, which is Australia's largest non-bank lender. Firstmac has been operating successfully for 40 years and it has more than $12 billion in mortgages under management.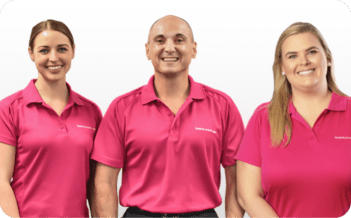 Work out if you qualify for a loan
In less than two minutes you can find out if you are likely to qualify for a low rate loan.