Homes in Australia have been built to suit our warmer climate but that doesn't mean you can't make minor renovations to your home to make them cooler.
Add shading
A well-shaded home can block up to 90% of the sun's heat in the warmer months. From outdoor awnings to outdoor roller shutters and pergolas, there are a range of easy improvements you can make to cool down your home.
Dominic Hollands of Refresh Renovations says adding shade to your home doesn't need to be complicated.
"A shade sail, a couple of posts and a bit of concrete from Bunnings can create a shaded area for about $200," Mr Hollands told loans.com.au.
"The idea is to block off the northern sun and the western afternoon sun, which is charged with heat energy. A shade sail is a great solution as it's moveable. Moveable or removeable shading is optimal as you don't want to stop solar gains in winter."
Consider adding artificial shading to your home like:
Awnings
Eaves
Pergolas
Shutters
Blinds
Louvres
Shade sails
How you cover your windows will play a big role in keeping your home cool. Blackout blinds are not only good for privacy and a good night's sleep - they're excellent at blocking out the sun and keeping rooms cool too. Make sure you opt for full solar block-out blinds. If you have skylights in your home, you can get block-out blinds for those too.
Leigh Rust, Director of Safetyline Jalousie Louvre Windows said louvres are also a good way to keep the house cool.
"Louvres offer up to 90% ventilation as opposed to 20% to 30% with other window alternatives," Ms Rust told loans.com.au.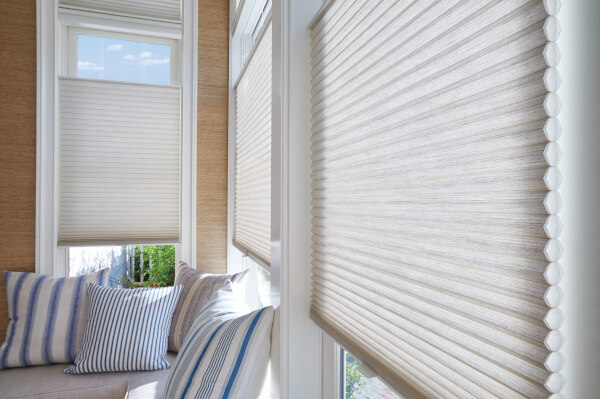 Image supplied by Luxaflex Window Fashions
"They work by providing cross-flow ventilation to keep the house cool, in some cases they can negate the need for HVAC.
Ms Rust recommends placing louvres opposite each other to allow for cross-ventilation.
"The larger the opening, the more cooling breezes can pass through. The amount of air moved is directly proportionate to the size of the outlet so the bigger the parcel size the more cooling capability."
Vera Meharg from Luxaflex Window Fashions told loans.com.au that up to 87% of a home's heat gain in summer comes through the windows.
Window glazing
If budget permits, another option is to replace the glass in your windows with double-glazed glass. This has the dual effect of limiting the heat coming in during the summer and keeping the warmth in during the winter.
Ms Rust said double-glazed windows can make a huge difference to the comfort of your home.
"Considerations such as double glazing or improved thermal performance glass should be front of mind, and those glass types with louvres is a win-win."
While double-glazed windows can be expensive to install, they're four times more energy efficient than single pane glass windows, which can reduce your energy bill year-round.
Double-glazed glass costs $200 per square metre on top of trade costs for installation.
Insulation
Christa van Oord from Pricewise Insulation said insulation is one of the easiest ways to keep your home cool and reduce energy usage.
"Retrofitting an existing home with roof insulation is one of the easiest ways to keep your home cool in summer and reduce energy usage. Up to 35% of heat gains are through the ceiling and therefore it is the most critical part of the home to insulate," Ms Oord told loans.com.au.
"Installing high quality wall, ceiling and underfloor insulation helps to create a barrier against the summer heat. The effectiveness of the insulation really comes down to the R-value of the product that you install. The R-value measures the resistance to heat flow, so the higher the R-value the better the thermal performance. We generally recommend R2.0 or R2.5 for the walls and R4.0 or higher for the ceiling - it really depends on where you live in Australia."
It's best to consult with a professional builder or installer before doing any insulation work in your home.
Pergola
Adding a covered patio or pergola to your home will not only keep your indoors cool by blocking out the sun, it can also provide an additional outdoor space to entertain guests when the indoors is just too hot.
You can also opt for a motorised pergola that can retract in the winter when you want to bring more sunlight in.
Typical quoted prices for pergolas start at around $2,500 for a small colorbond pergola up to $6,000 for a pergola with a sheeted roof.
Ducted air conditioning
When it's hot and sticky outside, it's hard to beat the feeling of walking into a nice chilly room. Air conditioning can do just that at the touch of a button. While your standard split system air conditioner can do the job just fine, ducted air conditioning is better at cooling large areas (like an entire house) while split systems can only cool a single room at a time.
Ducted air conditioners do come at a significant cost though, running into the tens of thousands of dollars to install depending on the size of your home.
Think thermal mass
Thermal mass is any material like concrete or stone, that can absorb and store heat - taking longer to heat up and to cool down. This means that in warm weather, thermal mass can keep a building cool.
Brick walls and concrete slab floors are good examples of thermal mass.
Also consider what colours you paint your home. Light colours reflect the heat while dark colours suck it in, so it makes sense to paint the exterior of your home in light colours.
Passive design
Shilpa Mohan, senior interior designer at DDC Architecture + Interior Design said naturally cooling the home by taking the local climate into account is a very efficient way of moderating temperatures.
"Most Australian homes lie in zone 2-6 in passive design principles, which means they need some form of cooling and heating. One of the most effective strategies is to ventilate your home by opening up windows and doors when the outside temperature is cooler than the inside temperature, such as during the summer nights," Ms Mohan told loans.com.au.
"Keeping windows open on either end of a house or passageway creates a cool breeze flowing between the two openings. If you are building a home for the first time or changing the layout of your home, try and make sure your living areas face the North if you are in Australia and minimize the amount of windows on the West to avoid the hot afternoon sun."
Wondering how to finance it all? Consider topping up your home loan with us. Get in touch with one of our home loan specialists to find out how.