How is borrowing power determined?
Borrowing power is determined by assessing whether your current financial circumstances will allow you to service your mortgage over the specified loan period. By using the loans.com.au borrowing power calculator, you enter your income and expenses to estimate how much you may be able to borrow for a home loan.
How do I increase my borrowing power?
Here are 10 smart ways you can increase your borrowing power.
#1: Know your credit score
Your lender will check your credit score when you apply for a home loan. Knowing your credit score will help you determine if you're in a healthy financial situation and if there are any issues with your credit history. If you're worried about a 'thin file', e.g. limited history, rest assured a lender generally prefers that to bad history of unpaid loans and so on. There are a few services out there that allow you to check your credit score for free at least once a year. This will allow you to start working to improve your score.
#2: Reduce your debts
Unsecured debts like credit cards and personal loans are very expensive and reduce the amount you can repay on a mortgage. Note, you won't accrue interest if you pay your credit card off in full every interest-free period, which can work favourably when looking at your credit score. If you work to reduce your high-interest-rate debts you can increase your borrowing capacity.
#3: Reduce excess credit limits
Do you have any unused credit cards? You might want to consider getting rid of them and cutting the limit on any cards you keep, because lenders will consider any credit cards to be drawn to their full limit. As an example, if you have two credit cards, one with a $5,000 limit and the other with $10,000, a lender will write down $15,000 in debt against you.
#4: Choose the right home loan product
When shopping for a loan, consider the features of the loan product so you know if it best suits your situation. For example, if you buy an eligible sustainable home with either a Green Home Loan or Solar Home Loan then you can get a lower interest rate and potentially borrow more.
#5: Organise your financial affairs
Organising your financial records, including completing your tax returns and having up-to-date information on your income will save you time when applying for a mortgage.
#6: Save more money for your deposit

Saving more money for a home deposit can increase your borrowing capacity because lenders look for a consistent saving record. This shows you can make regular mortgage repayments. Having a bigger deposit also reduces interest paid, and your monthly payment, too.
#7: Cut your expenses
Other than your income, your lender will also consider your expenses such as your rent, utility bills, school fees and childcare costs if you have kids. Trimming your expenses will not only help you save money for a deposit but will increase your borrowing power. Most people generally prioritise paying off the mortgage above all else, but the main message is to shop around - reassess your expensive phone plan, internet plan, energy bills, and so on, which can all add to the budget.
#8: Consider a joint application
Rather than buying a property by yourself, why not apply in joint names? Pooling your resources with a spouse may increase your borrowing power compared to buying alone.
#9: Increase your income
Increasing your income is a great way to increase your borrowing capacity. There are many options from getting a promotion, doing extra shifts or changing jobs to renting a spare room.
#10: Take a longer mortgage term
A 25 or 30 year mortgage is generally the norm, but a longer term can reduce your repayments. For example, $400,000 borrowed over 25 years at a 1.99% p.a. advertised interest rate equates to a $1,693 per month mortgage repayment. Compare this to a 30-year term, which reduces this to $1,476. The trade-off is that the latter results in more than $23,000 extra in interest paid over the life of the loan.
How to use the calculator
To use our borrowing power calculator, there are a few key pieces of information you will need to get the most accurate estimate of the amount you would be able to borrow.
Gross annual salary
Annual rental income
Monthly living expenses
Monthly loan repayments
Based on this information, our borrowing power calculator will then determine how much you could borrow and the monthly repayments, based on the current variable interest rate.
FAQs
Why is my borrowing power so low?
Your borrowing power is likely to be lower if you have a lot of debt, poor financial management skills, bad credit and a low deposit. In contrast, you will have greater borrowing power if you have low debt, reasonable lifestyle expenses, a large deposit and sufficient assets.
Our Awards
We're efficient. For the last 10 years, we've won awards each year for our innovation, low rate home loans and car loans and extras like our offset sub-account from experts like RateCity, Canstar and WeMoney to name a few.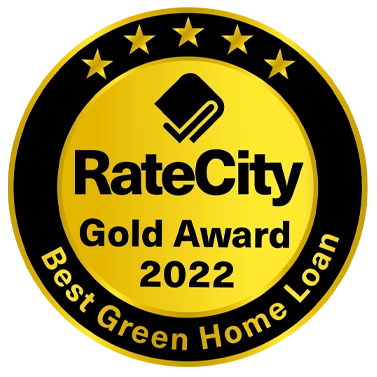 Calculator disclaimer
The results from this calculator should be used as an indication only. Results do not represent either quotes or pre-qualifications for the product. Information such as interest rates quoted and default figures used in the assumptions are subject to change.