Who is OnlineAuto?
OnlineAuto is truly a one-stop-shop for buying a car. Their team of experts will help understand what vehicle you're looking for, advise stock availability and then let you know when the car can get delivered. OnlineAuto can also assist with the trade-in of your existing car, which can help to fund a deposit or the purchase of your new car.
From there, our lending specialists at loans.com.au will help you secure low rate finance and even car insurance if you need it, and the OnlineAuto team will arrange delivery of your new vehicle to your door with a full tank of fuel.
From sourcing your car to the settlement of your finance, you'll barely even lift a finger! Thanks to loans.com.au and OnlineAuto, we can do all the hard work for you.
So, what are you waiting for?
How does it work?
OnlineAuto.com.au is a car buying service where they will source your new car and assist from negotiating the price down to getting it delivered to your door. Here's how it works.

Phone call
Firstly, they'll give you a call to get to know what you're looking for, and if you need any assistance with the trade in. At this stage, they can also give advice on what the best car for you may be.

Test drive
At this point they can help arrange a test drive for your chosen make and model to make sure you're comfortable before buying.

Procurement
The team will then do the hard work for you, negotiating with the dealer on your behalf.

Price
After speaking to their network of dealers around Australia, they'll come back to you with the final price of the car.

Sign the order form
When you're happy with the deal, you'll sign your order form and await delivery of your new car!

Delivery
They'll arrange delivery of your new car as soon as possible to your address, all with a full tank of fuel.
Does it cost more to use OnlineAuto?
OnlineAuto.com.au doesn't charge any fees for the service. Their referral fee is paid by the winning dealer that they source your car from and is included in the price of the car, covering procurement and delivery management. It also ensures you have a dedicated car buying specialist from the beginning of the process to finally having the car delivered to your front door.
Plus, when you get your car loan with loans.com.au, you know you'll be getting a low rate car loan with approvals within 24 hours, the option to add a balloon repayment, and no monthly, ongoing or annual fees. loans.com.au customers also have the option to pay out your loan early.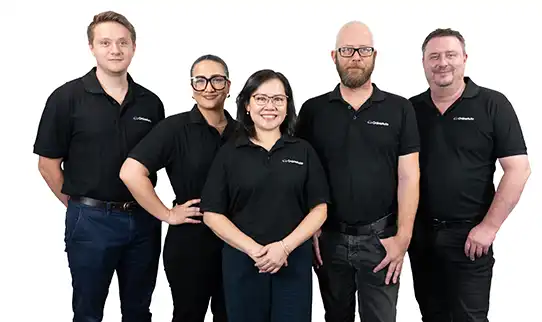 What's so good about using a car buying service?
Get to know what makes OnlineAuto the best way to buy your new car, online.

No brand bias
Sometimes when you visit a dealership, they want to help you but ultimately are trying to push certain brands, makes and models. At OnlineAuto.com.au, we'll take the time to listen to what you're looking for and then go out to dealers across the country to ensure we find the car you actually want.

No upselling
It's our main goal to ensure you buy the car you want and get a great deal. It's not in our interests to try and upsell you anything you don't need at the time of purchase. That being said, we are always here to help you if you're looking for specific additions to vehicle.

Save you time & money
Using a car broker like OnlineAuto.com.au is a sure way to save you time, money and hassle during the car buying process. We have the expert knowledge to know what cars are in stock, where, and how to negotiate a deal with the dealerships on your behalf.

Convenient & stress free
We take the stress out of what can typically be a lengthy process and make it what it should be - fun and exciting! Using the convenience of an online car broker, you can save yourself hours of time at a dealership and do all the hard work for you, from negotiating a deal to arranging your trade-in and delivery.

One-stop-shop
We like to see ourselves as a one-stop-shop for buying a new car. We can help provide advice on which vehicle may be best for you, help arrange finance if you need it, arrange your trade-in plus deliver your brand new car to your door with a full tank of fuel.

Expert team
You can take comfort in the knowledge that you are dealing with a team of friendly car experts at OnlineAuto.com.au. While you and your family might buy a new car once every 5 years or so, we're chatting to dealers everyday, so you can have confidence we'll get the best deal for you.
What else do I need to know?
Terms & Conditions
You must purchase your new car through OnlineAuto.com.au to be eligible.
To be eligible, you must be financing the purchase of your new vehicle.
The finance for your new vehicle must be sourced through loans.com.au.
The reward payment is a $250 fuel voucher.
You will be emailed the fuel voucher upon delivery of the car and settlement of the loan.
Payment will be made by fuel card delivered to the email address that OnlineAuto.com.au holds on file.
This promotion can be withdrawn or varied at any time.