How does a mortgage calculator help you?
Taking out a home loan is an important step in the home buying process and your loan repayments will be one of your biggest living costs once you do by a home. So, it's important to budget accordingly.
We're here to help you make an informed decision for your next home loan, and encourage you to use our mortgage calculator to compare different home loan options and calculate potential repayments.
Once you get an idea of your mortgage repayments you'll know what property price range you can realistically afford.
Our calculator can also help you understand how different factors like changing interest rates, additional repayments and the frequency at which you make your repayments can impact the interest owed.
For example, lower interest rates, making additional repayments, and paying your mortgage off fortnightly, or even weekly rather than monthly can all help reduce the cost of the loan over time.
By using our mortgage calculator, you'll be able to compare different buying scenarios and avoid falling into the trap of buying a house you can't afford, as well as manage your future repayments better.
So what's next? Now that you've estimated your repayments, see how much you can borrow with our borrowing power calculator.
Our Awards
We're efficient. For the last 10 years, we've won awards each year for our innovation, low rate home loans and car loans and extras like our offset sub-account from experts like RateCity, Canstar and WeMoney to name a few.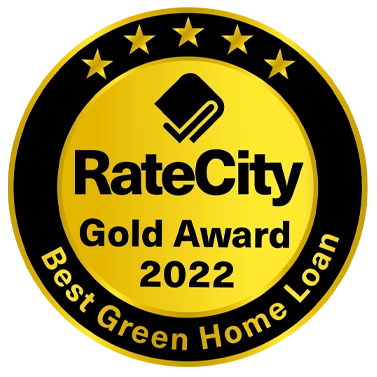 Whatever stage of the home loan journey you're at, we can help
Got a question? We can help
Chat online now
If you need help using our Home Loan Repayment Calculator or are ready to get started on your home loan journey, send us a message via Live Chat and we'll get back to you instantly.
Talk to a home lending specialist
Our experienced lending specialists can answer any questions you have on our home loans or the home loan process.
Important information
The estimated repayments provided should be used as a guide only, should not be relied on as true indication of your home loan repayments, or a quote or indication of pre-qualification for any home loan product. The figures are based upon the information you put into the calculator. We've made a number of assumptions when producing the calculations including:
Loan term and loan amount: We assume the loan term and loan amount have been correctly entered into the calculator.
Interest rates: We assume that the rate you enter, is the rate that will apply to your loan for the full loan term – even if you choose:

a variable rate; or

an interest-only rate which, in practice, will only apply for a limited period after which a different rate will apply.
Interest and repayments: The displayed total interest payable is the interest for the loan term, calculated on the entered interest rate. We make the following assumptions about repayments:

repayments are made monthly.

your annual interest charge is divided equally over 12 monthly payments (in practice, interest is calculated daily and charged monthly which can lead to your interest charge varying between months).

interest is charged to the loan account at the same frequency and on the same day as the repayments are made (this may not be the case in practice).

only your initial repayment amount is calculated. We assume that this repayment amount is payable for the loan term. In practice, repayment amounts can change for a variety of reasons.

weekly and fortnightly loan repayment amounts are assumed to be a quarter and a half of the monthly repayment amount respectively.

When selecting interest-only (IO) repayments, it is assumed the loan reverts to principal and interest (P&I) repayments after five years.
Conditions, eligibility, and lending criteria apply.