FAQs
How do you build up your equity?
Here are two main ways to build up equity in your home:
1. Increase the value of your home
When the value of your home rises, the equity does too. A home's value may rise because of capital growth. You may also consider performing some value-adding renovations to your home, such as upgrading the kitchen or bathroom or even building another bedroom.
2. Make bigger repayments
The equity in your home loan grows as you make each repayment. If you can afford to add a few extra dollars to your regular repayments, you can also reduce the term of your loan and save the amount of interest you pay. You can either do this by making additional repayments, paying both principal interest, or even adding an offset sub-account to your home loan.
How can you use equity to your advantage?
If you have a significant amount of equity in your home, it can open up a number of doors to use these funds.

Many homeowners use equity for:
Home renovations - Many people withdraw equity for renovation because they want to add value to their property or need to renovate to accommodate changing life circumstances.
Purchasing another property - Saving for a house deposit can take years, but if you have equity used as a deposit, you may be able to buy a second property sooner.
How do you borrow against the equity in your home?
The equity from your home or investment property can be used as a deposit on a second property, while your current property becomes a security on the new debt. This allows you to buy a second property with no cash deposit. Keep in mind that you'll need more than the deposit - stamp duty and legal fees will have to be factored in.
Why choose loans.com.au?
Low interest rates
Being an online lender with fewer overheads means we're able to pass on the savings to our customers.
Australian based
Get help when you need it from our friendly team of Australian based, lending specialists.
Flexible options
Looking to save with an offset, or make extra repayments with a redraw? We have a full range of loan features to suit your situation.
Award winning
We keep on winning awards for our products, innovations and customer service, year after year!
Our Awards
We're efficient. For the last 10 years, we've won awards each year for our innovation, low rate home loans and car loans and extras like our offset sub-account from experts like RateCity, Canstar and WeMoney to name a few.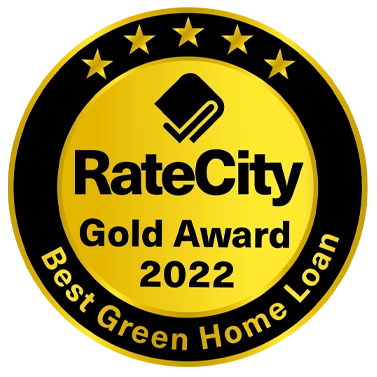 Ready to get started?
Whether you're ready to buy your first property and start building equity in your home, or you've owned your property for a while and are ready to put your equity to good use, we have the tools and tips to help.
Important things to know
Total equity
Total equity is the estimated value of the property entered by the user, less the loan balance entered by the user.
Estimated usable equity
Estimated useable equity is 80% of the estimated value of the property less the loan balance. This is not necessarily the amount you would be able to borrow, as financiers' lending criteria depends on a number of matters.
The calculation does not approve your loan
The calculator results are based purely on the details you've entered. Our lending criteria needs to take additional factors into account. To get approval for any of our home loans, apply now or chat to our friendly team and we're here to help.