How does an LVR calculator help you?
For help working out what your LVR is, you can use our LVR calculator. All you need to enter is your property price and deposit amount.
The higher your LVR, the harder it is to be approved for a loan and the more you'll likely have to pay in interest.
So if the LVR calculator shows that you have a high LVR, you should consider whether you need to save a larger deposit or look to buy a cheaper property.
How is LVR calculated?
The loan to value ratio (LVR) is the percentage representation of the loan's size to the value of your property. So, if you had a $100,000 deposit and you're borrowing $400,000 to purchase a property that's valued $500,000, your LVR would be 80%, since the loan size ($400,000) represents 80% of the property's value ($500,000). Your deposit represents 20% of the property's value, which is your equity in the property. The bigger your deposit on the property, the smaller your LVR will be.
So basically, your LVR % = ($loan size/$property value) x 100.
Lenders place a great deal of emphasis on LVR, and in some cases are less likely to lend to people with a high one. Typically, those with an LVR of 80 or less (a deposit of 20% or more) won't have to pay the thousands of dollars for Lenders Mortgage Insurance (LMI). A lower LVR can also suggest that you're a trustworthy borrower with good savings habits.
How to use the calculator + details of information required
All you need to enter is your property price and deposit amount. The calculator will determine your LVR.
LVR FAQs
Is a high or low LVR better?
LVR is used to assess the risk of a loan, with a higher LVR representing a higher risk to the lender. Having an LVR of 80% or lower may help you borrow more at lower rates and with lower repayments.
What is a good LVR for refinancing?
Home loans of 80% LVR and above are generally considered to be a risk. A loan to value ratio under 80% could be considered 'good' because you won't be charged Lenders Mortgage Insurance (LMI).
How is my property valued?
A property is typically inspected and viewed by a valuer as three interrelated elements. Land – Location, position, aspect, size, dimension, and topography are all considered by the valuer. They are looking for all the pros and cons across these, and other, components.
Why choose us?
loans.com.au is an award-winning online lender that is proudly Australian and based in the heart of Brisbane, with offices in other capital cities.
Super low interest rates
Experienced, Brisbane-based loan specialists
Flexible home loans
Awarded by our industry
Australian owned and run
onTrack Advantage
Our Awards
We're efficient. For the last 10 years, we've won awards each year for our innovation, low rate home loans and car loans and extras like our offset sub-account from experts like RateCity, Canstar and WeMoney to name a few.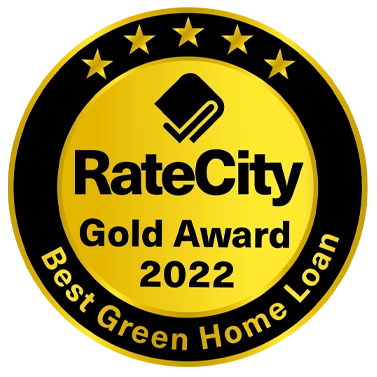 Whatever stage of the home loan journey you're at, we can help
Got a question? We can help
Chat online now
If you need help using our Home Loan Repayment Calculator or are ready to get started on your home loan journey, send us a message via Live Chat and we'll get back to you instantly.
Talk to a home lending specialist
Our experienced lending specialists can answer any questions you have on our home loans or the home loan process.