Get started
Ready to start saving on your current SMSF home loan? Simply apply online or chat to a lending specialist and they can do the hard work for you. We make the refinance process easy so you can settle sooner.
What is an SMSF loan?
A Self-Managed Super Fund, or SMSF is a private superannuation fund that allows you to manage your own superannuation investments for your retirement. Not everyone can set up their own superannuation, so understanding the basics is crucial before getting started, and for this we always recommend speaking to your accountant or financial advisor.
An SMSF loan is a home loan used by an SMSF to purchase an investment property. The returns on the investment, which can either be your capital gains or rental payments, are funnelled back into the superannuation fund for your retirement.
At loans.com.au, we currently only offer the option to refinance your existing SMSF loan, and not to purchase property.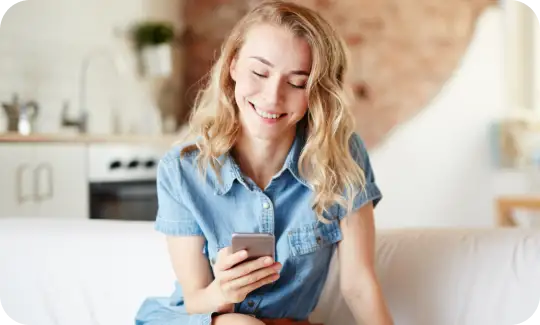 Why refinance to our SMSF loan?

No monthly or ongoing fees
We don't charge any monthly, annual or ongoing fees, so you can save thousands and focus on what is important to you.

Online access

Access your SMSF loan via our easy-to-use online app Smart Money.

Unlimited extra repayments**
Pay off your SMSF loan sooner with unlimited extra repayments
Application fee
As an online lender, we save in overhead costs and pass those savings directly on to you. So, we don't charge you an application fee.
Monthly or annual fees
In addition to our great low rates, we don't charge you any ongoing fees.
Settlement fee
There won't even be any fees at settlement time!
Our SMSF Refinance Process
loans.com.au makes refinancing simple so you can stop paying too much on your SMSF home loan. Go from application to settlement in a few steps. Here's how.

Apply online
Fill out our application online or talk to one of our Australian-based lending specialists to do the hard work for you.

Goodbye paperwork!
Login to onTrack and upload documents at ease. Receive your documents from us and track your application to approval.

Settle & save
We do everything required for the loan settlement, so you can start saving money.
Frequently asked questions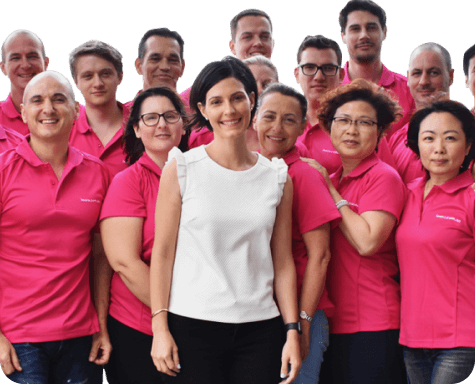 For the last 10 years, thousands of Aussies have trusted loans.com.au with some of their biggest financial decisions - buying a home, a new car or refinancing to save on interest.
Customers trust us to support them with low rates, approved quickly through our easy-to-use online app, where you can track the status of your loan from application to settlement.
loans.com.au is completely safe, with thousands of happy customers across Australia. We are financially backed by Firstmac, Australia's 13th largest lender. Firstmac has been operating successfully for more than 40 years, and has $13 billion in mortgages under management, as Australia's leading non-bank lender.
We are also actively involved in our local community with our loans.com.au Women, Children & Community Program designed to support Australian charities on their mission to raise awareness for important causes.
Read our story
loans.com.au are easily the best lender I've ever dealt with
loans.com.au are easily the best lender I've ever dealt with. I won't be dealing with anyone else in future. Ray, particularly was amazingly helpful and very patient when changes were made. Would recommend to everyone.

Vicki M.
January 07, 2022
From the start to settlement the process was easy
The best lender we have ever dealt with. From the start to settlement the process was easy, the tracking app kept us up to date, everything went like clockwork. A huge thank you to our lender Jade who was just wonderful and Mike who kept us up to date and answered our questions. Very happy with our new loan, the loan app is easy to navigate, and highly recommend loans.com.au

W and H M.L
January 06, 2022
Great home loan range at a very competitive interest rate
I highly recommend loans.com to talk to for a great home loan range at a very competitive interest rate. We used finder and also researched other websites to compare what lenders were offering and they came up considerably better than their competition for what we were looking for. Also it was a privilege working with Dale Bolson who walked us through from the start with his product knowledge and customer care which exceeded all expectations. Well done and thank you to Dale, Kathryn and the team from the initial website inquiry through to settlement that put it all together.

Questions? We can help

Chat online right now
Send us a message via Live Chat and we'll get back to you instantly.

Talk to a lending specialist
Our experienced lending specialists can answer any questions you have on how to refinance and how we can help you to start saving on your SMSF loan.