Why do we work with them?
loans.com.au are thrilled to be a major sponsor for A Night In The Doghouse event in 2022. We are working towards a shared passion of making change in the mental health space through raising money for the Black Dog Institute.
A Night in the Doghouse is an event that fosters conversation about mental health among young people and raises money for the terrific work done by the Black Dog Institute - a pioneer in the research and treatment of mental illness amongst young Australians.
The event raises money the Black Dog Institute's initiatives, which provides educational materials and treatments to young Australians suffering from mental illness.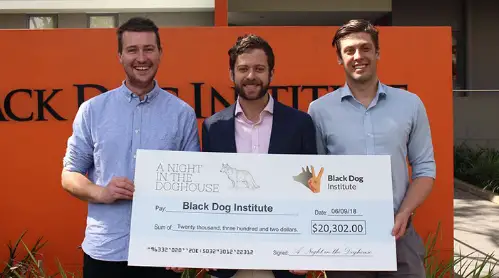 "We are thrilled to announce loans.com.au as our major sponsor for A Night In The Doghouse. A Night in the Doghouse is proud to be part of the loans.com.au Women, Children & Community Program, where together we are working towards a shared passion of making change in the mental health space through raising money for the Black Dog Institute."

- Joe Fleming, Founder - A Night In The Doghouse
Apply now for the loans.com.au Women, Children & Community Program