You might've seen the recent spamming of advertisements for some of the latest ride-sharing services in Australia, mainly Didi and Ola. Meanwhile, Uber remains ever present .
But what exactly are each of the main ride-sharing services in Australia, and which one is the best?
In short, ride-sharing services are an alternative to taxis where drivers drive their own vehicles and passengers can book trips with them. You typically book your ride within a smartphone app connecting you to local drivers in your area, and can track their location in realtime.
Uber was the pioneer of ride-sharing, initially starting in 2009 and becoming one of the world's most successful startups. Since it entered the Australian market, taxi used has declined, as the initial pull of ride-sharing was the fact that it was much cheaper than taxis. Prices may have increased in recent years, but the ease of use in ride-sharing services has seen them (mainly Uber) maintain a strong market position.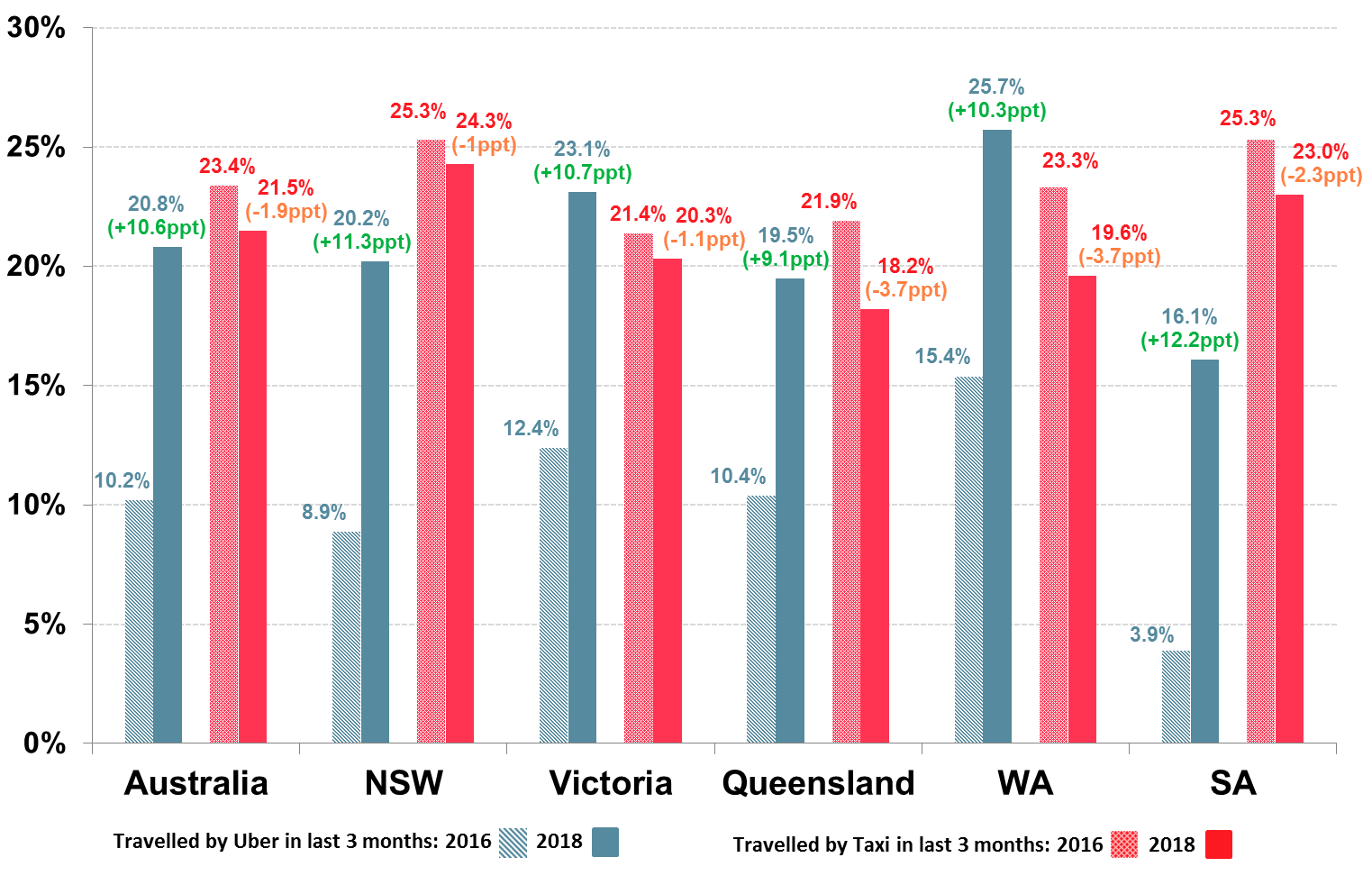 Taxi and Uber use by state. Source: Roy Morgan (December 2018).
At the moment there are six key ride-sharing services in the Australian market:
Uber The original ride-sharing service, Uber was founded in America in 2009 and has since amassed more than 110 million worldwide users in 63 countries. It's an extremely prominent service, shaking up entire industries and causing every new startup to label itself as "the Uber for so-and-so". According to Roy Morgan Research, nearly 4.3 million Australians use Uber in an average three month period.
Ola Ola is India's most popular ride-share service, commanding 60% of the market there and claiming to handle more than 15 million bookings a day. It launched in Australia in early 2018.
Didi Didi is the Chinese equivalent of Uber and has 550 million users globally. It claims to be around 10% cheaper than Uber, and formally launched in Australia in June 2018.
GoCatch Founded in 2011, GoCatch allows users to book taxis or vans within minutes. It remains one of Uber's biggest domestic rivals here, and claims to be cheaper than ordering a regular taxi.
Bolt Formerly known as Taxify, Bolt is based in Estonia of all places, and allows people to book taxis, electric scooters and food delivery from their smartphones. It has more than 25 million global customers and is a fairly recent entrant to the Australian market (Sydney and Melbourne only).
Shebah Shebah is Australia's first and only active all-female ride-share service. It's essentially Uber for women who perhaps might not feel comfortable or safe in a standard Taxi or Uber. It is also the only service whose drivers all have working with children checks, so it is the only ride-share where children can ride unaccompanied.
Roy Morgan CEO Michele Levine said that the new entrants were set to challenge Uber's supremacy.
"While Uber comfortably sits at a phenomenal domestic market share, the sudden growth of these new competitors cannot be ignored," Ms Levine said.
"At the same time, Uber's competitors will need to be creative when tackling the industry giant, while also making themselves the preferred options to taxis and other ride-share services as well."
Uber is by far the dominant ridesharing service so far, but this could be set to change with so much competition.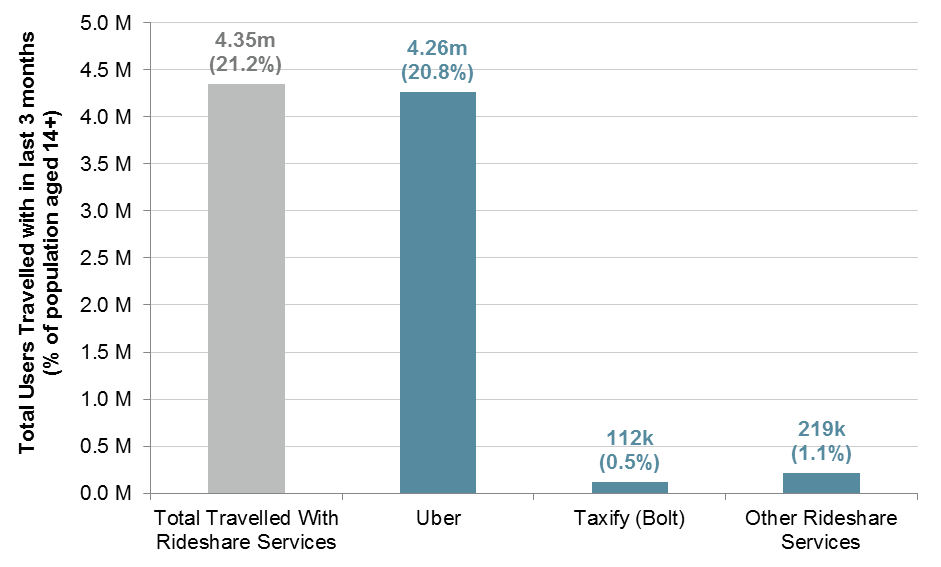 Source: Roy Morgan (December 2018).
There are now many new companies from all across the world looking to replicate Uber's success, and they have already started to influence the Australian market. Taxify, now known as Bolt, is used by over 100,000 Australians in an average three months, while a collection of other rideshare services are used by 219,000 Australians in an average three months, accounting for over 1% of the 14+ Australian population.
Pros and cons of ridesharing services
Here are the general pros and cons of using ride-sharing services.
Pros
Ride-sharing services are generally cheaper than taxis
There's plenty of competition in the industry (see below) with more popping up all the time
They're convenient - simply press a button in your phone to summon one nearby
They have useful features - smartphone apps let you pool with other nearby passengers, split fares, change addresses etc.
The rating system weeds out dangerous or inappropriate drivers
Cons
Taxis can be cheaper during peak periods
Ride-share services can also charge surge prices in certain locations (like airports)
It's entirely app-reliant, so if your phone dies you can't use one yourself
Taxis are required to be fitted with security cameras, ride-share vehicles are not
Although we can't definitely say which ride-share service is 'the best' we can do our best to compare them like-for-like.
Here's a general comparison of the major players in the Australian ride-sharing market. Information is accurate at the time of writing (October 2019).
Service
Cost
Cancellation fees
Signing up discount?
Uber

Minimum fare of $7.50
35 cents per minute
$2 base fare
$1.10 distance fee
Surge pricing applies

Up to $10
$25 off your first ride
Ola
Ola has a like-for-like pricing structure with Uber
Up to $10
$20 off your first ride
Didi

Cheaper than Uber:

Minimum fare of $6.98
30 cents per minute
Base fare $1.98
Distance fee of $1.08
Surge pricing applies

Up to $10 or 5% of total fare
All new users get $5 off each of their first four rides
GoCatch

Claims to be 10% cheaper than standard rank and hail taxis
No surge pricing
Otherwise a similar pricing structure to Uber

$9 cancellation fee
$20 off for new customers

Taxify (Bolt)

(Sydney and Melbourne only)

$9 minimum fare
$1.49 per kilometre
$0.40 per minute fee

$5 cancellation fee
New customers get a free ride credit
Shebah (women only)

$2 booking fee (for advanced bookings)
Base rate of at least $3.60 (depends on the state)
Minimum fare of $11.30
Similar time and cost/km as Uber

$11.80 after five minutes
$18.80 within one hour of an advanced booking

None found

Comparatively, here's what a standard Taxi would cost you in Sydney according to taxifare.com.au.
| | Flag fall (initial fee) | Distance rate | Booking fee | Waiting time |
| --- | --- | --- | --- | --- |
| Day rate (06:00 - 21:59) | $3.60 | $2.19/km | $2.50 | $0.94/minute |
| Night Rate (22:00 - 05:59) | $3.60 | $2.63/km | $2.50 | $0.94/minute |
| Night Rate Friday & Saturday (22:00 - 05:59) | $6.10 | $2.63/km | $2.50 | $0.94/minute |

The difference in pricing can result in different fees, with ride-sharing services generally (but not always) being cheaper. For example:
An inter-CBD trip in Sydney would cost around $10.80 in an Uber and $9.70 in a taxi
A suburban trip in Sydney would cost around $18.40 in an Uber and about $22 in a taxi
Going home from the CBD would cost about $16.70 in an Uber and around $23.5 in a taxi
Ride-sharing services offer fare estimates prior to making your booking so you can receive a rough estimate of how much your trip will cost.
With several new entrants to the ride-sharing industry popping up lately, Ola Managing Director Simon Smith told loans.com.au the extra competition can benefit you.
"Until last year, the rideshare industry was effectively monopolised by one big player," Mr Smith said.
"Our entry into the market just over 12 months ago has changed that, and both passengers and drivers and are feeling the positive effects of new competition."
According to Mr Smith, both consumers and drivers were crying out for better deals, something Ola's arrival has delivered.
"Since launch, our emphasis has been on making sure drivers can make a fair living, which means we charge commissions that are almost half of those charged by our largest competitor," he said.
"In addition to a fairer deal for drivers, we aim to be consistently better value to passengers, by providing regular discounts to both new and repeat users."
If you haven't yet used them all, most ride-sharing services offer some kind of incentive to new customers, like ride credits. This can be a good way to trial them, as they're all pretty easy to sign up for. Do some test runs in each different app to see which one works best for you.