There's no doubting us Aussies love swimming pools - there are 1.2 million registered residential pools across the country, according to a 2014 survey by Swimart, while a 2018 study by Roy Morgan Research found nearly 2.7 million Australians live in a household with a pool.
Having a pool comes with many benefits. In addition to giving you a spot to cool off on a hot day, having a pool can make you the envy of your neighbours and can also potentially add value to your house.
But they aren't cheap to install, and can be expensive to maintain as well.
In addition to costing around $1,000-$2,000 to maintain each year on average, pools can cost tens of thousands of dollars to install.
An inground pool - generally the most popular type of pool - is the most expensive due to its excavation costs. An inground concrete pool costs between $35,000 to $100,000 to install, with an average of about $50,000. An inground fibreglass pool will tend to cost around $25,000-$75,000. These figures don't even include the costs for fencing, paving and decking around the pool, which can cost several thousand more.
Other types of pools can be cheaper. For example, an above ground pool can cost less than $10,000, but they aren't as slick as in-ground pools. They're generally easier to install, however.
Here is a breakdown of how much the various different types of pools cost, via Airtasker:
Concrete Swimming Pool

$35,00 to $100,000

Fibreglass Swimming Pool

$25,000 to $75,000
DIY Kits with Vinyl Liners

$3,500 to $6,500

Timber Decking (optional)

$1,500 to $2,000

Fibreglass Pool Shell (complete kits)

$9,000

Fibreglass Pool Shell (alone)

$7,000
That Swimart survey found 90% of pool owners believed their pool boosted the value of their property by an average of $30,000 and between $10,000 and $100,000, based on the size, style and location. But there's no hard and fast rule for whether or not a pool adds value to a property. Sometimes, the opposite can be true.
A big factor that influences whether or not a pool adds value to your home is the demand for one, which will be lower in colder states.
Roy Morgan found Regional Queensland has the highest rate of pool ownership at 20% of households, with Perth (19%) and Brisbane (18%) and Sydney (15%) following. The Australian average is 13%, while our cooler states like Victoria and Tasmania have just 9% and 3% respectively.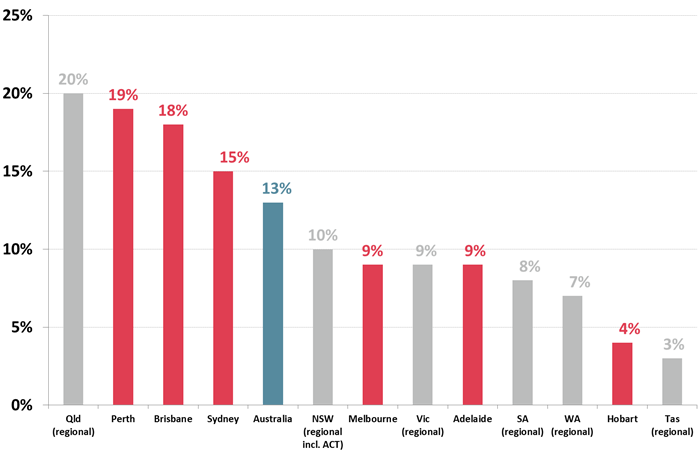 So while it is hard to quantify how much value a pool can add to a property, it's more likely to do so in an area with an already high demand for pools. People are more likely to want to take a dip in hot weather than in the freezing cold.
Plus, pools can be expensive to maintain - often costing around $2,000 a year - and can deteriorate if neglected.
But a nice pool that doesn't detract from the overall look of the property can definitely add value to a home if the right type of buyer presents themselves.
First and foremost, installing a pool is not a DIY job, unless we're talking inflatable pools here. You will need to engage a licensed builder, and in New South Wales there are actual dedicated swimming pool building licenses required, so make sure you find and compare quotes from various builders, and check to see if they're reputable.
In most areas, you'll likely need council approval to construct a pool, and there are safety guidelines to comply with regarding fences and their overall design.
There are two key ways you can pay for a pool installation:
The most popular approach is to access the equity in your home by getting a top-up loan. A top up loan is an increase in your existing home loan, where you are lent more money secured against your home.
Even if you borrowed as much as you could when you bought the home, you may still be able borrow more now because, if you have paid down your loan and the value of your property has risen, your equity in the home will also have grown.
When you have more equity, you can borrow more money against it.
For larger and more expensive pools (say in the $100,000-plus region) you might need to use a construction loan. Construction loans work differently to home loans: you receive the loan in increments as the work passes various milestones, and you only pay interest on the amount you have drawn down.
Swimming pools aren't cheap, so unless you have the cash lying around you'll probably need to rely on one of these options. Speak to one of our loan specialists to discuss using the existing equity in your home or a construction home loan to suit your pool-building needs, so have a look at what we offer to get started.