In case you missed it, we've launched a new Green Home Loan which rewards borrowers for making their homes more energy efficient with a discounted rate.
Our Green Home Loan has a competitive discounted variable interest rate of 2.08% p.a. (2.36% p.a. comparison rate) and is just like our regular variable rate home loan, but with an eco-friendly difference.
To qualify for the discounted loan, your home must be less than 12 months old and you must get a NatHERS certificate from an accredited assessor, showing a 7.0 star rating or higher.
So what is the NatHERS rating and what do you have to do to make sure your home meets that 7.0+ star rating?
The Nationwide House Energy Rating Scheme (NatHERS) is a star rating system out of ten that rates the energy efficiency of a home based on its design.
Star ratings are based on information about the design and layout of the home, construction method and materials used, and how much artificial heating or cooling needed to live comfortably throughout the year.
How do you achieve a 7.0+ star rating?
To calculate a NatHERS rating, a NatHERS Accredited Assessor will use software which models expected indoor temperatures based on data specific to that property, including information on design and construction of the home, climate, and common patterns of household use.
The software tools do not take into account electrical appliances in the dwelling, apart from the air flow impacts from ceiling fans.
The NatHERS Accredited Assessor then enters data into the software to develop a simulation model of the house or apartment, including:
size and function of rooms

size and specification of openings

building materials/windows/products

type of construction

dwelling orientation

location
The software will then model how much artificial cooling or heating occupants may need to stay comfortable during a typical year. It does this by firstly simulating how the local climate heats and cools the house every hour of every day of the year.
As soon as the temperate inside falls outside of a 'comfortable' range, the software models the need for heating and cooling based on the assumption the occupants in the house will open or close windows and blinds/awnings before resorting to using artificial heating or cooling.
The total estimated annual heating/cooling requirements are then converted to a star rating out of 10.
Homes with a higher star rating are considered more comfortable and cheaper to run than homes with a lower star rating.
A 6-star rating is the minimum standard in most Australian states and territories and it indicates good, but not outstanding, thermal performance.
A 10-star rated home may not need any artificial cooling or heating to keep you comfortable.
If you're designing a new home, NatHERS has 7 star house plans available on their website which outlines building specifications, materials, appliances, and site orientation that has been architect-designed and tailored to suit different climates across Australia.
To be eligible for our Green Home Loan, you must get a NatHERS certificate from a NatHERS accredited assessor showing a minimum 7.0+ star rating.
A certificate that has been supplied by a NatHERS accredited assessor will display the NatHERS logo and can be printed in colour. A certificate that has not been supplied by a NatHERS assessor won't have the NatHERS logo and will only be available in black and white: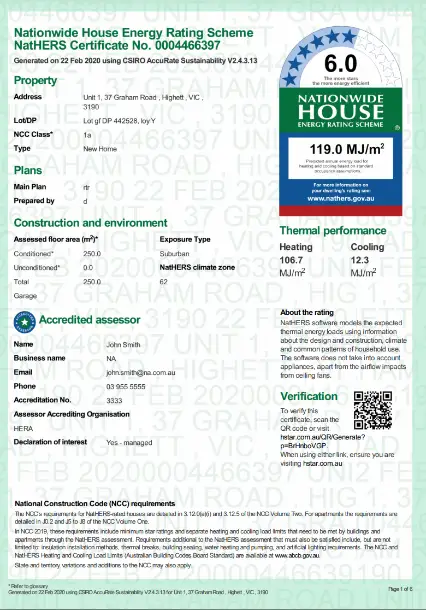 Certificate by a NatHERS accredited assessor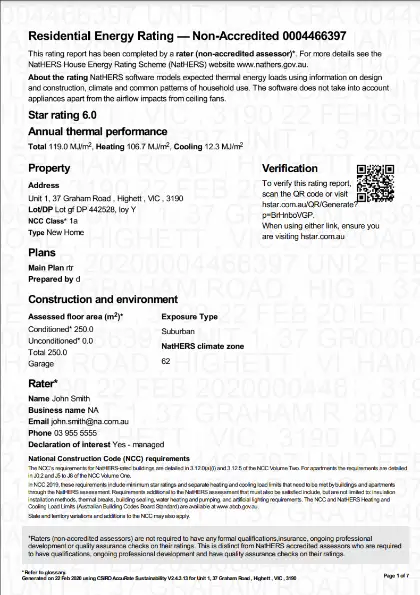 Certificate by a non-accredited assessor
NatHERS has more information on what features to look for in a NatHERS accredited assessor certificate.
If you're thinking about turning your home green, then check out our green loan products and chat to one of our expert lending specialists today to find out more.
Other helpful resources: